Asbestos Abatement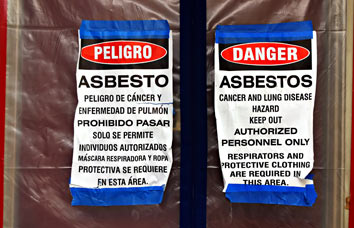 Asbestos was a common material used in the construction industry from the early 1900s to the late 1970s. In 1978 asbestos was banned in the United States because of serious health and safety concerns. A dangerous carcinogen, asbestos is fibrous material that can cause mesothelioma and lung cancer. Demolition, repair or improper attempts to remove asbestos can release these fibers into the air, where they pose the highest health risk.
California has stringent laws regarding renovation, construction, or demolition of buildings where asbestos may be disturbed.
Because of its unique chemical and physical properties, asbestos was used in a variety of products including:
Popcorn Ceilings
Vinyl floor tiles
Piping insulation
HVAC ducting
Roof shingles
Siding and may more construction products.
Do not try and remove asbestos yourself. Asbestos must be destroyed or recycled in an appropriate facility and as such can only be removed by certified professionals.
Trust Fresh Air Environmental Services for your asbestos abatement project. At Fresh Air Environmental Services, we are licensed, insured and dedicated to providing affordable, reliable and fast asbestos removal for our residential and commercial clients. Our commitment is to taking every protective measure to ensure the safety of everyone involved by using state-of-the-art methods and technology in all our procedures.
Our Certified Technicians use specialized equipment and modern techniques to safely remove and properly dispose of hazardous waste. Our technicians receive special training from certified Course providers annually. If you have a small residential job or a large commercial project you can rely on our professionals to safely complete your project.
If safety and cost effective remediation is what your looking for then Fresh Air Environmental is your answer. Contact us today for a Free Estimate!
Read what our customers say:
Mike in Sunland, CA
Needed to get the asbestos popcorn off my ceilings in a hurry, as it was suddenly holding up a remodel project (that wasn't supposed to include ceilings, but every time you open a wall in my house, something bad seems to crawl out of the woodwork.)  Fresh Air (specifically Erin) got me scheduled quickly, helped me with forms to bypass the waiting period due to the emergency nature of the request, and the team that showed up was quick and efficient.  I can't say enough good things about Fresh Air – when we address the ceilings in the rest of our house, I won't hesitate to call them again.
homeowner in Chino, CA
All I needed was the asbestos from the firewall in my garage removed. The staff worked with my schedule and arrived on time. The abatement crew was professional and friendly. Their coordinator I worked with over the phone provided exceptional customer service. I'd certainly refer or use Fresh Air Environmental again in the event I need asbestos safely removed.
Paris in Los Angeles, CA
We had no clue what we were doing when we purchased an old house that needed asbestos abatement. Erin and the crew at Fresh Air took care of everything in a very timely and professional manner. I would recommend them to anyone who is in our shoes and needs a trustworhty contractor.
homeowner in Long Beach, CA
Great experience. I needed the job done immediately, and in a short amount of time (i.e. in one day instead of over 2 days). They spend the extra time to get the job done in one day, and did a great job making sure everything was cleaned up when the job was finished.
FAQs
Fresh Air Environmental Services has compiled some useful information so that you can be informed and act accordingly. The following information can help you make a decision about when to involve professional help for your mold situation. Fresh Air Environmental is always willing to answer questions about mold removal, so if any questions arise, please feel free to call us at (800) 564-8282.
What is Asbestos?
Asbestos is a name for several fibrous minerals used in many industrial and building products. Some common uses are:
Insulation on boilers, piping and other mechanical systems.
Fireproofing material in buildings.
Decorative and insulating surfacing materials in buildings.
Acoustical materials and surface treatments.
Automotive and machinery brakes.
Gasket materials.
Roofing felts and tars.
Flooring felts and tiles.
Insulation boards and papers.
Cement shingles, panels, pipes, and ducts.
Electrical insulation boards and wire insulation.
Testing for Asbestos
It is impossible to determine the actual presence of asbestos by sight alone. If you are concerned that you might have harmful asbestos in your building or house, we recommend that a Certified Asbestos Consultant be hired. A Certified Asbestos Consultant can provide you with an asbestos report that will allow you to know how to proceed. Your Certified Asbestos Consultant will inform you whether your building contains asbestos, and will provide a recommendation for situation to deal with the asbestos.
Fresh Air Environmental Services, Inc. has compiled a list of trusted Certified Asbestos Consultants that are highly recommended for their high performance and low price point.