Testimonials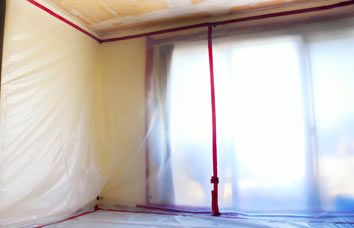 Fresh Air Environmental Services is a licensed, bonded and insured Environmental Specialty Contractor you can rely on our expertise to guide you safely through your project. The friendly and trained staff is ready at a moments notice for your environmental needs. The friendly and trained staff is ready at a moments notice for your environmental needs.
If safety and cost effective remediation is what your looking for then Fresh Air Environmental is your answer. Contact us today for a Free Estimate!
Check out our references below:
Edwin A. in Arcadia, CA
All work done very timely as promised. Great to work with DJ and Erin as well as their two crews.
Jill J. in Culver City, CA
Arrived on time for quote, provided reasonable estimate, scheduled work with professionalism and guidance to save me some $$ and performed admirably for being all trussed up in asbestos gear. Kevin and Erin were a joy to work with and I would highly recommend them.
Sarah P. in Long Beach, CA
I was completely satisfied with Fresh Air Environmental from start to finish. DJ came out to see the house needing asbestos removal. I explained to him that this was the first house for my daughter and her husband and they had a very tight budget. DJ spent time explaining in detail how my daughter and her husband could do this huge project themselves. Then I had him measure the area and hired him on the spot. Erin in the office was awesome and the work crew was outstanding. I highly recommend this company for anybody needing this type of work performed in their own home.
Judy S. in Granada Hills, CA
Customer service was top notch. Erin explained the process and timeline with perfect detail so I knew exactly what to expect. All personnel arrived promptly. Work was completed within specified time frame. The clean-up crew at the end left the place cleaner than when they started! A pleasure to work with for an otherwise ugly task..
Sheri D. in Canyon Country, CA
They were so helpful and explained everything. They showed up on time and worked non-stop trying to get it done in one day. Unfortunately they were not able to finish the same day; however, not wanting to leave us with a containment field up over the 4th of July holiday, they were here the next morning (July 4th) to complete and remove the containment field. Amazing work and very professional. Highly recommend. Erin was extremely helpful and very responsive to all my questions.
Robert B. in Long Beach, CA
Excellent service. Erin was very specific on the project and it was completed in 1 day.
homeowner in Monterey Park, CA
They're very professional and thorough.
Miriam W. in Pasadena, CA
Very knowledgeable, understood my situation, came out promptly, and took my linoleum sample to the lab for me. Spoke with my daughter to explain everything that needed to get done, and sent email report if testing. Very efficient team. Very professional company. They worked fast and for a very fair price.
homeowner in Anaheim, CA
I found Erin at Fresh Air Environmental very informative and professional, sending me all the information I needed before I made a decision. I was quoted a very good price, and the work was done thoroughly and on time. I'm completely satisfied with their asbestos abatement work. I do recommend Fresh Air Environmental Services Inc.
homeowner in San Bernardino, CA
Fresh Air did a great job removing a furnace pipe that had asbestos.
Susan M. in Woodland Hills, CA
I've been having problems for years with my AC. Fresh Air was the first contractor to correctly diagnose the problem. I needed a new duct not a new unit. $500 later, my house is cool although it's 100 degrees outside. I am thrilled and should be even happier when I see my electric bill. Excellent service
homeowner in Costa Mesa, CA
Although not the lowest, Fresh Air's price was very reasonable. I chose them because of their customer service. Fresh Air was very responsive to my inquiries about the project. They made sure I understand what would be happening during the project. They completed the project in a single day and did an admirable job. I would definitely use them again and would recommend them to my family and friends.
homeowner in Irvine, CA
I did lots of research on the subject and the agencies. This one turned out very good and they were very reasonable with their price. I've been wanting to take care of this problem for a long time. Thye did the job as requested. They were very thorough and efficient. The reason they got this job is they actually sent someone to inspect it before quoting. I am very pleased with them.
homeowner in Torrance, CA
I had all the old heating ducts that contained asbestos removed from the attic using Fresh Air Environmental Services, Inc. They left the worksite clean and free of debris. I plan to use them to remove the asbestos containing texturized ceiling material from the ceilings in a few weeks.
homeowner in Chino, CA
All I needed was the asbestos from the fire wall in my garage removed. The staff worked with my schedule and arrived on time. The abatement crew was professional and friendly. Their coordinator I worked with over the phone provided exceptional customer service. I'd certainly refer or use Fresh Air Environmental again in the event I need asbestos safely removed.
homeowner in Long Beach, CA
Great experience. I needed the job done immediately, and in a short amount of time (i.e. in one day instead of over 2 days). They spend the extra time to get the job done in one day, and did a great job making sure everything was cleaned up when the job was finished.
Ed B. in Los Angeles, CA
Very good company. Erin handled everything over the phone and the technicians arrived on time and were very clean and efficient.
homeowner in Fullerton, CA
They were kind and responsive. Their customer service is amazing. They work with you to make sure you are satisfied. It was a pleasure to work with a company that started and completed the job on time. Thank you!
homeowner in Long Beach, CA
Mack was very professional and showed up for the estimate appt on time. Erin was very helpful in answering all of my questions and abating my fear of leftover asbestos. Their price was the lowest of the 3 companies I triple bid and they were the most courteous. Extremely professional and friendly staff. Would definitely hire again.
Ben K. in La Canada Flintridge, CA
Mack has come to the house and provided an estimate. The buyer plans to hire them to perform the service as soon as they own the property (within next several weeks). Mack has been great to deal with on the phone and in person. He showed up to appt. on time and was very personable and knowledgeable. The buyer was pleasantly surprised with the estimate. very good and fast service !! Thank you very much.
homeowner in Los Angeles, CA
There ended up being some problems on the day of the work, but they bent over backwards to make it right and make sure we were happy. Hard working and friendly workmanship. Very reasonable people to work with.
Christel P. in Canoga Park, CA
Great service, they were on time, performed the work very professionally and the price was right!!! I would recommend them any time to anybody.
homeowner in La Canada Flintridge, CA
They were very professional and completed the job ahead of schedule. In fact, the owner had to return to the house in the evening to give me all of the project paperwork since I was unable to leave work since they finished earlier in the day.
James E. in Encino, CA
The contractor arrived on time, explained the procedure and completed all work in a short time frame. Excellent Service by Fresh Air Environmental Services!
If safety and cost effective remediation is what your looking for then Fresh Air Environmental is your answer. Contact us today for a Free Estimate!