News
Fresh Air Environmental sponsors the Greatest Escape Motorcycle Ride
Fresh Air Environmental is proud to sponsor The Pacific Meso Center's upcoming event, The Greatest Escape Motorcycle Ride, which is scheduled for Sunday, September 22nd, 2013.
The Pacific Meso Center is a 501(c)(3) non-profit research institute, focused on finding better treatments for sufferers of malignant pleural mesothelioma, an asbestos-related cancer affecting the lining of the chest – the pleura (www.pacificmesocenter.org).
The Greatest Escape Motorcycle Ride is a 50th anniversary celebration of the Great Escape movie, which starred Steve McQueen, who sadly lost his life to mesothelioma.
The Greatest Escape Motorcycle Ride will kick off from Bartels' Harley Davidson in Marina Del Rey and the riders will be escorted by a host of celebrities, 32 miles up Pacific Coast Highway to the Sycamore State Beach in Malibu. The day will consist of great entertainment by the Walking Phoenixes, line dancing, craft beer, vendor booths, a live auction and raffle prizes.
To register for this event, click on www.thegreatestescape.org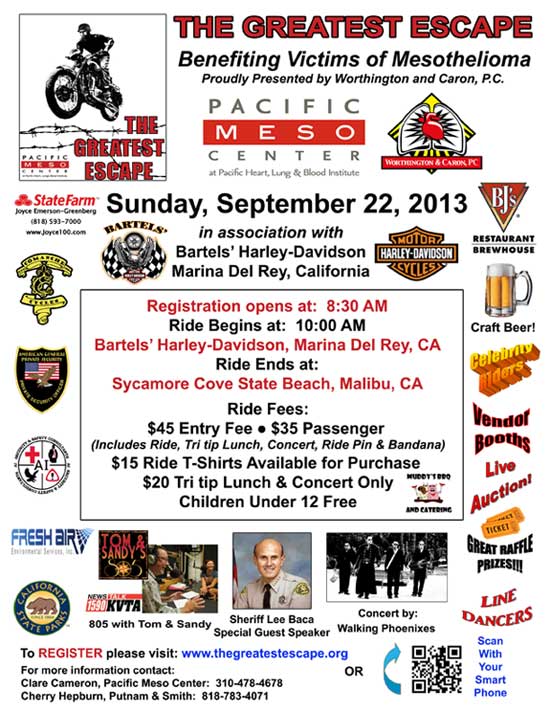 back